Together with our funders, MELDAP, we are excited to bring to you the Festival of Recovery running from Friday 16th to Sunday 18th of September 2022, where we will celebrate all types of recovery through exploring personal journeys and social support networks, promoting the need for acceptance, hope and resilience. Through workshops and informations sessions, music, art, social cafe, cooking and well-being sessions and many more exciting events. We aim to show what recovery means to us as a community. The festival will be held at different venues across Dunbar and surrounding villages. It is a collaboration of a wide range of support services and our talented local community. All the events across the weekend are free and open to all. Come along and get involved.
We have a fabulous and wide ranging array events on over the three days. You can download the programme here. All events are free but it is advisable to book via this link
Darren McGarvey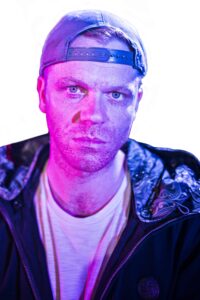 Dunbar Battery – Sat 17 Sept.
We are delighted to welcome Darren McGarvey to Dunbar.
Booking essential –click here
---
Darren McGarvey (@lokiscottishrap), also known by the stage name Loki, is a writer, columnist and hip hop recording artist, who has made regular media appearances as a social commentator.
Darren grew up in Pollok on the south side of Glasgow, and has lived through extreme poverty, addiction and homelessness. Between 2004 and 2006 he wrote and presented eight programmes on social deprivation for BBC Radio Scotland. Since then he has been a regular contributor to the BBC, STV and other national media, and currently has a weekly column in The Daily Record. McGarvey has a certificate of excellence for his voluntary work with young people. In 2009, he founded Volition Scotland, an organisation that was designed and run by the young people who used it. He was part of the Poverty Truth Commission that was hosted in Glasgow in the same year. McGarvey became the Violence Reduction Unit's first ever 'Rapper-in Residence' in 2015 and continues to work across Scotland in some of its most challenged communities.
In November 2017 his first book Poverty Safari was published, and was an instant bestseller and critical hit, making the Sunday Times top ten bestseller lists and receiving plaudits from national newspapers and magazines. He won the prestigious 'Orwell Book Prize' in June 2018 leading to an upsurge in media requests and appearances.
Darren has presented three series for BBC Scotland, "Darren McGarvey's Scotland", "Darren McGarvey's Class wars" and most recently "Darren McGarvey's Addictions" – all of which have been critically acclaimed and realised much neccessary discussion, debate and change.
Darren's second book was released this year – "The Social Distance Between Us: How Remote Politics Wrecked Britain". Another challenging, yet engaging read, he will bring his unique live version of this to the fringe this year, combined with live discussion and rap.
---